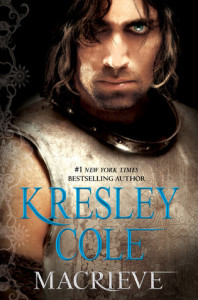 Macrieve
by
Kresley Cole
Series:
Immortals After Dark #13
Published by
Gallery Books
on July 2, 2013
Genres:
Paranormal Romance
Pages:
368
Amazon
Goodreads
A Beast In Torment

Uilleam MacRieve believed he'd laid to rest the ghosts of his boyhood. But when a brutal torture revives those ancient agonies and destroys his Lykae instinct, the proud Scot craves the oblivion of death. Until he finds her—a young human so full of spirit and courage that she pulls him back from the brink.

A Beauty In Chains

Seized for the auction block, Chloe Todd is forced to enter a terrifying new world of monsters and lore as a bound slave. When offered up to creatures of the dark, she fears she won't last the night. Until she's claimed by him—a tormented immortal with heartbreaking eyes, whose touch sets her blood on fire.

A Full Moon On The Rise

With enemies circling, MacRieve spirits Chloe away to the isolated Highland keep of his youth. But once he takes her to his bed, his sensual mate becomes something more than human, evoking his savage past and testing his sanity. On the cusp of the full moon, can he conquer his worst nightmare to save Chloe . . . from himself?
This book has been on my kindle since its release. I drool over it everytime I finish a book and wonder what to read next. My fingers have itched to start it, but obligations stood in the way. As an end of the year treat, I let myself finally have Macrieve! Don't expect me to call him by his given name, I can't pronounce it or even sound it out. Besides, only close family gets to call him Will, and no one else can pronounce his given name either! What an imagination to come up with this name!
Chloe Todd is a fighting character. She reminded me of the Valkries, which was good because we don't get to see them in this book. She is so sassy, and mouthy and just a general smart ass. I love it. She needs that strength to go up against Head Case. Macrieve is seriously messed up after his stunt in the Order's prison, and it is going to take one hell of a woman to get him straight. His story goes way, way back and you find out that it was not only the prison that had messed up his head.
Some of the things Macrieve says and does to Chloe just totally shocked me. He could be so loving one minute and then a total beast (haha I know he's a werewolf) the next. I don't think any of the other werewolves we have met so far have been so downright cruel. Chloe is able to stand up to him and not take his shit.
I loved this book! The only reason I took off half a star was because I didn't see much progression in the Accession until the very end. The ending or epilogue was so very frustrating. I can't tell you much more but my heart was in shreds after it.
This is definitely a must read for Immortals After Dark fans. It might stand alone, but to fully understand Macrieve's pain, you should read the last few books.
Read: For Fun
Challenge: 2013 Ebook Challenge
Related Posts