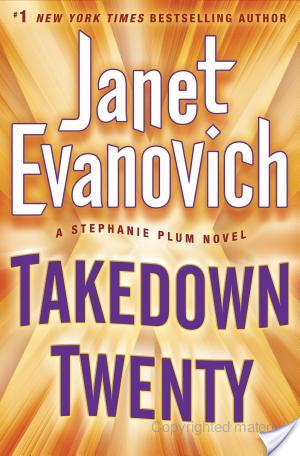 Takedown Twenty
by
Janet Evanovich
Series:
Stephanie Plum #20
Published by
Random House LLC
on November 19, 2013
Genres:
Romantic Suspense
Pages:
320
Amazon
Goodreads
#1 NEW YORK TIMES BESTSELLERPowerhouse author Janet Evanovich's Stephanie Plum novels are "laugh-out-loud funny" (St. Louis Post-Dispatch), "brilliantly evocative" (The Denver Post), and "making trouble and winning hearts" (USA Today).   Stephanie Plum has her sights set on catching a notorious mob boss. If she doesn't take him down, he may take her out.   New Jersey bounty hunter Stephanie Plum knows better than to mess with family. But when powerful mobster Salvatore "Uncle Sunny" Sunucchi goes on the lam in Trenton, it's up to Stephanie to find him. Uncle Sunny is charged with murder for running over a guy (twice), and nobody wants to turn him in—not his poker buddies, not his bimbo girlfriend, not his two right-hand men, Shorty and Moe. Even Trenton's hottest cop, Joe Morelli, has skin in the game, because—just Stephanie's luck—the godfather is his actual godfather. And while Morelli understands that the law is the law, his old-world grandmother, Bella, is doing everything she can to throw Stephanie off the trail.   It's not just Uncle Sunny giving Stephanie the run-around. Security specialist Ranger needs her help to solve the bizarre death of a top client's mother, a woman who happened to play bingo with Stephanie's Grandma Mazur. Before Stephanie knows it, she's working side by side with Ranger and Grandma at the senior center, trying to catch a killer on the loose—and the bingo balls are not rolling in their favor.    With bullet holes in her car, henchmen on her tail, and a giraffe named Kevin running wild in the streets of Trenton, Stephanie will have to up her game for the ultimate takedown.From the Hardcover edition.
This series has been going on for a long time.  Twenty books is a very long time for a series.  I have stayed with Stephanie Plum through all the good and the bad.  I probably will continue to read, mainly because some of the side characters really make me laugh.
My biggest complaint is that the characters haven't seen a whole lot of growth.  Stephanie has been a bounty hunter for a long time, not to mention the time she has done some security work for Ranger.  You would think she would have developed some skill at what she does.  Instead she still refuses to use a gun, and spends more time running from her fugitives than actually picking them up.  Either running or having Ranger save the day again.
I do not understand why Ranger continues to spend so much time and money on Stephanie.  She can't seem to make up her mind on what their relationship is, but yet he consistently pulls her ass out of hot water, provides her with expensive vehicles and gives her backup when needed.  He gets nothing in return but a few stolen kisses and says a lot of "Babe".  I think I'm losing a bit of respect for him.  You would think he would have given up a long time ago.  Seriously, is Stephanie THAT good in bed that he'd put forth that much effort?  I doubt it.  She's clumsy I life, I can't imagine her being any more smooth in bed.  But then, Joe is pretty consistently after her ass too, so maybe there is one area in her life she excels!
"Morelli gave me a kiss on the forehead and handed me over to Ranger to take home"
The back and forth continues. Will it ever stop? Stephanie really walks the line between them in that this is almost one of those books where she spends time in bed with both. The triangle has become frustrating and tiresome, as has Stephanie's lack of progress as a skilled bounty hunter. The light however, is that Stephanie is getting tired of all of it too, so maybe we will see some changes in the next book.
As usual, our side characters totally carry the book. I found I was laughing out loud at Lula's antics. There was quite a bit of Grandma Mazur in Takedown Twenty and although I feel that her antics were pushed just a bit far, she is still pretty funny. I am questioning the whole giraffe storyline in this book. I didn't find it funny, and couldn't really see the purpose in it at all.
I will read Top Secret Twenty-One, coming out in June,  despite giving this one such a low rating. I cannot help myself. I will do it for the amusement of Lula & Grandma Mazur as well as to see if Stephanie finally makes some firm decisions in her life. I will read it even if I end up banging my head against a wall. Call me a sucker for punishment.
Reading this book contributed to these challenges:
Related Posts