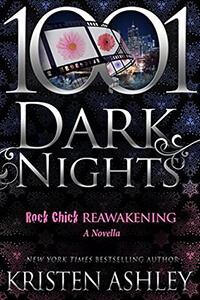 Rock Chick Reawakening
by
Kristen Ashley
Narrator:
Susanna Jones
Length:
5 hrs 8 mins
Series:
Rock Chick #0.5
Published by
Evil Eye Concepts Inc
on January 3, 2017
Genres:
Contemporary Romance
Pages:
207
Amazon
B&N
Apple Books
Audible
BAM
Google Play
Goodreads
From New York Times bestselling author, Kristen Ashley, comes the long-awaited story of Daisy and Marcus, Rock Chick Reawakening. A prequel to Kristen's Rock Chick series, Rock Chick Reawakening shares the tale of the devastating event that nearly broke Daisy, an event that set Marcus Sloane—one of Denver's most respected businessmen and one of the Denver underground's most feared crime bosses—into finally making his move to win the heart of the woman who stole his.
This post contains affiliate links you can use to purchase the book. If you buy the book using that link, I will receive a small commission from the sale that goes towards keeping the blog running.
***This review was originally posted at Books of My Heart as part of their Friends on Friday feature.
So I am trying the Rock Chick series by Kristen Ashley as a recommendation from a friend who is going to try one of my favorite authors. Kind of an exchange. I wasn't sure where to start. There was this prequel and then book one. I decided to do Rock Chick Reawakening first. This series has quite a few books in it, so I thought I would start out small to see if I wanted to invest the time. It is going to be a challenge, as I do not read many contemporary romances.
In Rock Chick Reawakening we meet Daisy and Marcus. From the blurb, I understand that these two are a major couple in the series. Daisy had a rough life growing up and is happy with how she has worked her way up to being the spotlight stripper earning a ton of cash. Marcus is a silent partner in the club who has decided that Daisy is the one for him.
Then one night Daisy becomes a victim in a horrible crime and the distance Marcus has kept comes to an end. He actively begins his pursuit of Daisy's heart.
Daisy is pure Southern woman and at times I had a hard time imagining the high hair and the way she talked. Sometimes it made me laugh at what I thought was a bit over the top. Marcus was pure gentlemen and gave Daisy the things she needed even when she didn't want to acknowledge that she needed him. He was amazing with her. Their romance was slow and sweet. My heart melted at the way Marcus handled Daisy.
The story takes you years into Marcus and Daisy's lives so you get to see all the ups and downs, the cherished moments. I liked that you got to see their POV even after the formation of the Rock Chicks and all the other women are in their lives. I think it sort of spanned the whole series.
Rock Chick Reawakening was a nice introduction to the Rock Chick world and I look forward to what the full novels will bring. Sometimes it's hard to tell from just a novella. I do know that I will smile fondly when I read the next books and Marcus and Daisy are mentioned.
Related Posts