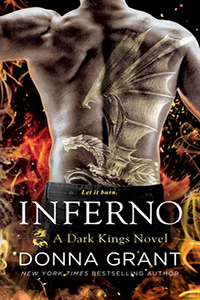 Inferno
by
Donna Grant
Narrator:
Antony Ferguson
Length:
12 hrs 20 mins
Series:
Dark Kings #18
Published by
St. Martin's Press
on August 25, 2020
Genres:
Paranormal Romance
Pages:
454
Amazon
B&N
Apple Books
Audible
Audiobooks.com
Google Play
Goodreads
Inferno is the explosive, most anticipated, final book in Donna Grant's Dark Kings series featuring Con, the King of the Dragon Kings!

I knew what I wanted. And nothing was going to stop me.

King of Dragon Kings. Driven, ruthless, shrewd. The weight of survival for Constantine and his brethren has pushed him to set aside his own yearnings—for now. He's the most powerful of all Dragon Kings, and Con will stop at nothing to destroy anyone who dares to threaten his existence.

For years, Con has hidden his pain—his desperation—for there is one smoldering beauty that he craves above all else, even if he feels he doesn't deserve her. However, his enemies are at every corner. There is no one left to trust. But none of that matters anymore: There is only one thing that Con wants. With this one woman by his side, he can fight for the freedom of his fellow men-in-arms. All Con has to do is get her to surrender her heart…and be his for all time.
This post contains affiliate links you can use to purchase the book. If you buy the book using that link, I will receive a small commission from the sale that goes towards keeping the blog running.
Pro: This is Con's book.
Con: This is the last book of the series.
The storyline has been building so hard throughout this series that I was dying for the final installment. The conflicts that had been created and building had me grabbing up each new book in my dire need to know what was going on. With Inferno, I was not disappointed. I got the romantic relationship I wanted, I got the action and resolutions I wanted and there were even some surprises. We are left with a few tidbits, but I believe that is necessary as Donna Grant not only wrote a few novellas following this book, but also has the spin-off series Dragon Kings to bring these tidbits into.
The relationship between Con and his mate had the conflict that we thought they would just not be able to overcome. Too much time and pain had passed for this to be an easy fix. I was surprised at how I felt about Con's mate. She was so much more vulnerable than what we are used to. I kind of wanted her to stand a little stronger and make things as difficult for Con as I felt he deserved.
All our favorite and not so favorite characters come together to finally put an end to the enemies of the Dragon Kings as well as one crazy bitch. Over all, I was taken through a good mix of emotions and left feeling satisfied, yet curious at the end. I know a lot of people don't like any loose ends being left, but I feel like they were necessary to entice people to move on to the next series. Inferno really lived up to what I wanted in Con's book.
Related Posts