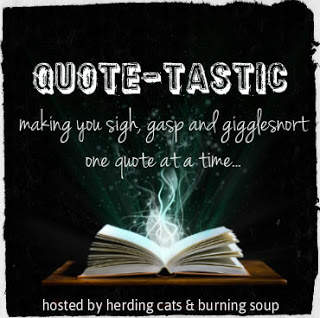 Anna over at Herding Cats & Burning Soup hosts this awesome meme on Mondays called Quote-tastic, where we can share some great passages from our reads. Don't forget to say what book it's from so we can all check out your selection. Anyone can join in, if you don't have a blog, you can show me your quote in the comments!
"Why are you pulling away from me now? Why are you acting as if I don't mean anything to you?"
He held her gaze, his own haunted and filled with remorse. "Because it isn't fair to you, letting you think I could ever be any kind of mate worthy of you."
…
"I'd resisted the temptation for a very long time, Melena. And it was easy. Until I found you."

See? It shouldn't take long for the man to admit that he's being an ass because the thinks he's not good enough. He wasn't too bad for too terribly long in this book, but I think that was because it was a novella. Melena did really well handling him. I mean she was heartbroken, but accepting.
Synopsis:
Once, they lived in secret alongside mankind. Now, emerged from the shadows, the Breed faces enemies on both sides—human and vampire alike. No one knows that better than Lazaro Archer, one of the eldest, most powerful of his kind. His beloved Breedmate and family massacred by a madman twenty years ago, Lazaro refuses to open his heart again.
Sworn to his duty as the leader of the Order's command center in Italy, the last thing the hardened warrior wants is to be tasked with the rescue and safekeeping of an innocent woman in need of his protection. But when a covert mission takes a deadly wrong turn, Lazaro finds himself in the unlikely role of hero with a familiar, intriguing beauty he should not desire, but cannot resist.
Melena Walsh has never forgotten the dashing Breed male who saved her life as a child. But the chivalrous hero of her past is in hard contrast to the embittered, dangerous man on whom her safety now depends. And with an unwanted—yet undeniable—desire igniting between them, Melena fears that Lazaro's protection may come at the price of her heart….
Related Posts