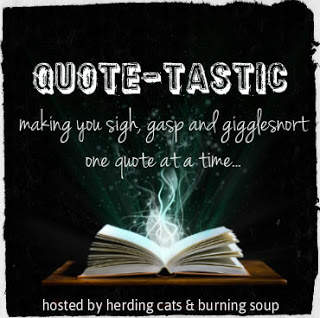 Anna over at Herding Cats & Burning Soup hosts this awesome meme on Mondays called Quote-tastic, where we can share some great passages from our reads.  Don't forget to say what book it's from so we can all check out your selection.  Anyone can join in, if you don't have a blog, you can show me your quote in the comments!
Today, I'm grabbing a quote from Seventh Grave and No Body by Darynda Jones.  It is so hard to choose a quote from a book I am listening to in audio, but luckily I have this one in hard cover too.
"What's up, sweet cheeks?" Oh yeah, Neil knew.  He was being way too nice.  We'd gone to high school together, and the only time he was nice to me was when he wanted to date my sister, Gemma.

"Well, for starters, Reyes and I are affianced.  And we have a bun in the oven.  Her name is Beep."

"That's not a name you hear every day."

~Seventh Grave and No Body page 159
Charley likes to name everything, and it seemed funny to me that she names all the other things in her life with regular people names (Barbara for her brain, George for Reyes's shower) but her own little bun gets "Beep"?  She is just full of surprises!
Twelve. Twelve of the deadliest beasts ever forged in the fires of hell have escaped onto our plane, and they want nothing more than to rip out the jugular of Charley Davidson and serve her lifeless, mangled body to Satan for dinner. So there's that. But Charley has more on her plate than a mob of testy hellhounds. For one thing, her father has disappeared, and the more she retraces his last steps, the more she learns he was conducting an investigation of his own, one that has Charley questioning everything she's ever known about him. Add to that an ex-BFF who is haunting her night and day, a rash of suicides that has authorities baffled, and a drop-dead sexy fiancé who has attracted the attentions of a local celebrity, and Charley is not having the best week of her life.

A tad north of hell, a hop, skip, and a jump past the realm of eternity, is a little place called Earth, and Charley Davidson, grim reaper extraordinaire, is determined to do everything in her power to protect it.

We're doomed.
Reading this book contributed to these challenges:
Related Posts