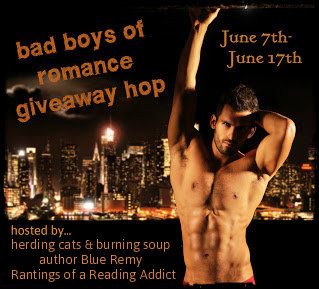 You know you love them. Those "bad boys" of romance. We're celebrating them and all their naughty deliciousness with the Bad Boys of Romance Giveaway Hop! Mmmmhmmm.
Which "bad boy" revs your motor? Is it a hero? Villain? A secondary character?
Be sure to hop around and check out all the bloggers and authors giveaways! There's a new one on each site!
Charming, proud, and impulsive, Leo Warrior Brody Talbot is fighting what may be his final battle. Enyo, the Goddess of War, plans to fulfill an ancient prophecy to destroy humanity by harnessing the dark power of the Summoning Stones of Egypt. There's only one person who knows enough about the stones to help Brody stop her-beautiful museum curator Ava Harrison. Never in all his centuries has Brody met a woman who enthralls him like Ava. But, bound to protect her, he struggles to deny his passion as they are drawn into a dark and dangerous final reckoning between good and evil.
Warriors. One word and basically all the motivation I need to pick up a book. Does it matter whether they fight for good or evil? Well, I can't give a confident answer on that. Too many variables. I can be swayed. I'm not going hide it!
Warrior Ascended by Addison Fox is the first of the Sons of the Zodiac series, and because I must make sure that he is given the love he deserves, Rantings of a Reading Addict is giving away a signed copy of this first book featuring Brody and Ava, as well as a $25 GC to either B&N or Amazon. It IS a series after all, you must complete the Signs! 🙂
Make sure to visit all the other Bad Boys of Romance stops on the hop and get entered in all the giveaways going on!
My Giveaway!
Bad Boys of Romance Grand Prize Giveaway!
Now jump on to the next participant and see who they chose as their special bad boy!
Related Posts