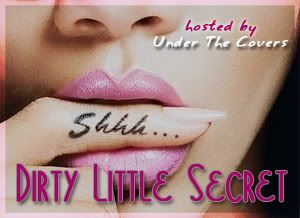 Dirty Little Secret
 is a weekly meme hosted by Under the Covers. Every Thursday we get to know other bloggers and our readers more intimately by asking them a question hoping to reveal their dirty little secrets. We hope that you will all join us!
To participate in the meme all you need to do is:
1. Be a follower of Under the Covers.
2. Create a post in your blog taking the meme image (code above) and copy instructions. 
3. Answer the question we propose! This can be done in any way you like, post a video, write a post etc.
4. Then add your link below.
Non-bloggers: We want to hear from you as well!!! Let us know your answer in the comments! 
We hope you join us and let us know your Dirty Little Secrets!
This week's question: 
If we were unforgivably rude and snatched your purse from you, what would we find inside?
I used to stuff receipts down between my seats in my car, but since I recently got a new car, that habit has moved to my purse.  It is a sea of receipts.  I also carry my Kindle Fire in there, my wallet, cocoa butter hand lotion, tropical chap stick, a pen, my check book and yeah, more receipts!  My favorite part of my purse is the outside.  It has two metal circles where the strap meets the purse and I use that to hang my keys off of, and then I keep pins on the front pocket.  Right now I have a pin from Kelley Armstrong's Darkets Powers series and a "Plum Crazy" pin I got from a Janet Evanovich signing.  I did have my Mockingjay pin on there but the stupid thing fell off and I haven't replaced it yet.  I guess the question didn't really ask what was on the outside, but hey, when I think of my purse, I think about how much I love the outside!   With the exception of my Kindle, everything else in my purse is boring.  So let's hear it… what's in YOUR purse?
Related Posts